2014-15
Click the cover at right to begin reading!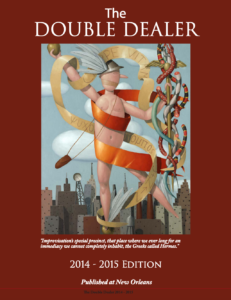 This year's edition features 2014 Faulkner-Wisdom competition winners, plus an in-depth look at the 2014 ALIHOT (A Legend in His-Her Own Time) award winners.
In addition, special submissions from Randy Fertel, Stanley Crouch, Allessandro Powell, W. Kenneth Holditch and more…
2013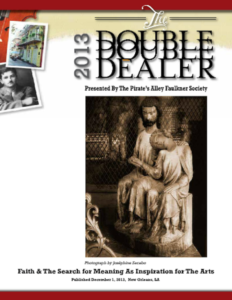 The third edition, published November, 2014 is a whopper of an edition, more than 400 pages of literary content, including the work of 2012 and 2013 winners of the William Faulkner – William Wisdom Creative Writing Competition and work by such critically acclaimed authors as Ron Rash, Rodger Kamenetz, Horacio Castellanos Moya, Patrick Samway, S. J., John Biguenet, Reza Aslan, Leslie Lehr, George Bishop, Beth Ann Fennelly, Tom Franklin, and many others.
2012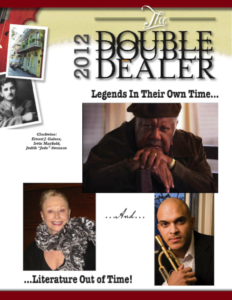 The Double Dealer, 2012 is 330 pages of material from winners of the William Faulkner – William Wisdom Creative Writing Competition for the years 2007, 2008, 2009, and 2011, along with other proceedings of the Society, including our BIG READ projects for 2008, 2009, and 2012, winners of the Society's ALIHOT (A Legend In His/Her Own Time) Awards, and other material of interest to readers and writers, including social commentary, essays, interviews, poetry, and recommended reading.
2011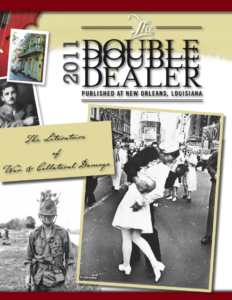 It was a long time coming, getting on track with the 2011 journal. Our last hard copy of the journal was released in 2007. A  combination of Katrina aftermath, increasing costs for printing, and lack of revenue kept The Double Dealer on the back burner until 2010 when we began getting up to speed on the technology of online journals. Then there was the matter of coming to grips with the sheer volume of excellent material from the winners and runners-up since 2007, most assuredly a challenge.
We restarted publication with this 2011 edition, which includes not only the work of Faulkner – Wisdom Competition winners for 2010 but also papers presented at Words & Music, 2010, which we had an obligation to publish. Because of the volume of excellent papers presented that year, we could only handle winners from one year in that edition. Hereafter, the work of competition winners is published in the year they are selected.
We are actively soliciting advertising for the journal at this time. Follow this link for information on rates.
NOTE: Unsolicited manuscripts are submitted at author's risk. While we do consider work from unknown authors, we are not in a position to pay for such work at this time. New fiction, essays, and poetry published in the journal are primarily manuscripts by winners and finalists in the annual William Faulkner Creative Writing Competition.